Hello!
In case you are not aware, I wanted to take this opportunity to share great news. The Adventures of Damnation Kane is, at long last and after a lot of work, available in e-Book format.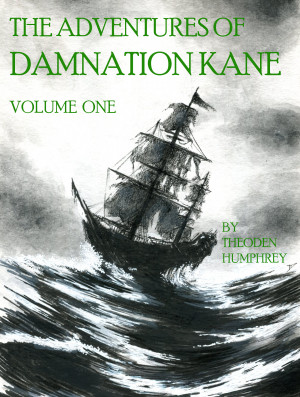 https://www.smashwords.com/books/byseries/33132
(If you are a follower of this blog, you are aware that the cover image is an original painting by my wife, the incredible Toni DeBiasi. You can find her art on Facebook or Instagram. Go check it out.)
There are four short e-Books, all available through Smashwords.com, and also through Barnes and Noble, the Apple store, Kobo, Scribd, OverDrive, and others. My next step is to collect the four short books into a single print edition, which I will be publishing through Lulu.com. I will post it on here when it is ready. (And then, maybe an audiobook?)
The e-books include the first 38 chapters published on this blog, along with ten total bonus chapters never before published, and each about twice as long as the usual weekly post. These bonus chapters include the backstory, or side storylines, for several of the characters in the Adventures: the story of how Damnation first commissioned the Grace of Ireland; a scene from the Grace when she is under the command of "Captain" O'Flaherty; another scene of the mutineers behind bars. Several of the chapters focus on O'Flaherty and Ned Burke, telling how they came to join the crew of the Grace, how they plotted against her captain — and yes, including the story of how Ned Burke lost his thumbs. I hope these additions will make the books worth the purchase price even for those who have been reading the Adventures all along.
I have also completed my website, which will have permanent links to the books and to everything else I write and publish; I may eventually move the Adventures off of WordPress and to the blog, so please make sure you at least go take a look, so you know where to go should this blog disappear. (Won't be happening soon, so don't worry.) I will be posting the next chapter next week; for this Saturday, I wanted to share this news, and these links. I am very proud of what I have accomplished, and I hope you all will enjoy reading this as much as I have enjoyed writing it. And if you do, could you please post a review on whatever website you used to get the ebooks? Whether you enjoyed them or not, your feedback is immensely helpful, and much appreciated.
Thank you for your support.
Theoden Humphrey
Word pirate